Pour participer au remplissage du blog c'est facile !
En cliquant sur "contactez l'auteur" vous pourrez nous écrire pour nous communiquer toutes informations pouvant être mises dans le blog :
- nouvelles chorés, - playlistes de bals, - liens vers une boutique country, - vers un site intéressant....
12 décembre 2017
Bal COUNTRY CD au Madison Lormont (33) - www.lemadison.info
Un excellent plancher, beaucoup de place pour danser (salle de 300m2), des softs à volonté
Entrée 7€
Playlist spéciale révisions :
better times
tennessee waltz surprise
christmas like mama
lay low / just lay low (p)
the world / the world for 2 (p)
big city summertime
fly high
dirty boots (p)
Stop staring at my eyes
golden wedding ring
closer
bored
stay all night
bring down the house / bring down the house for 2 (p)
untamed
shake (p)
goin hamm
JR
gypsy queen
greater than me
little wagon wheel / wagon wheel rock / lost in me
castle on the hill
bush party
honky tonk junkie (p)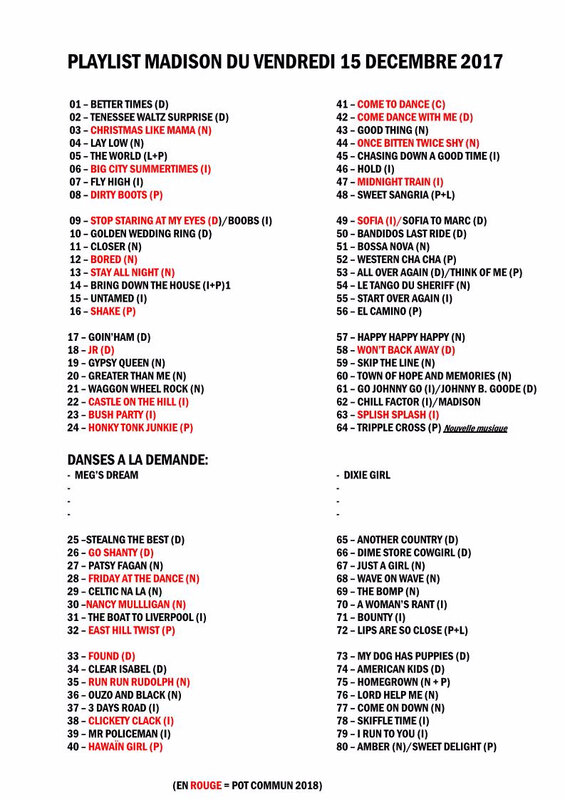 "3, 2, 1" ... danse country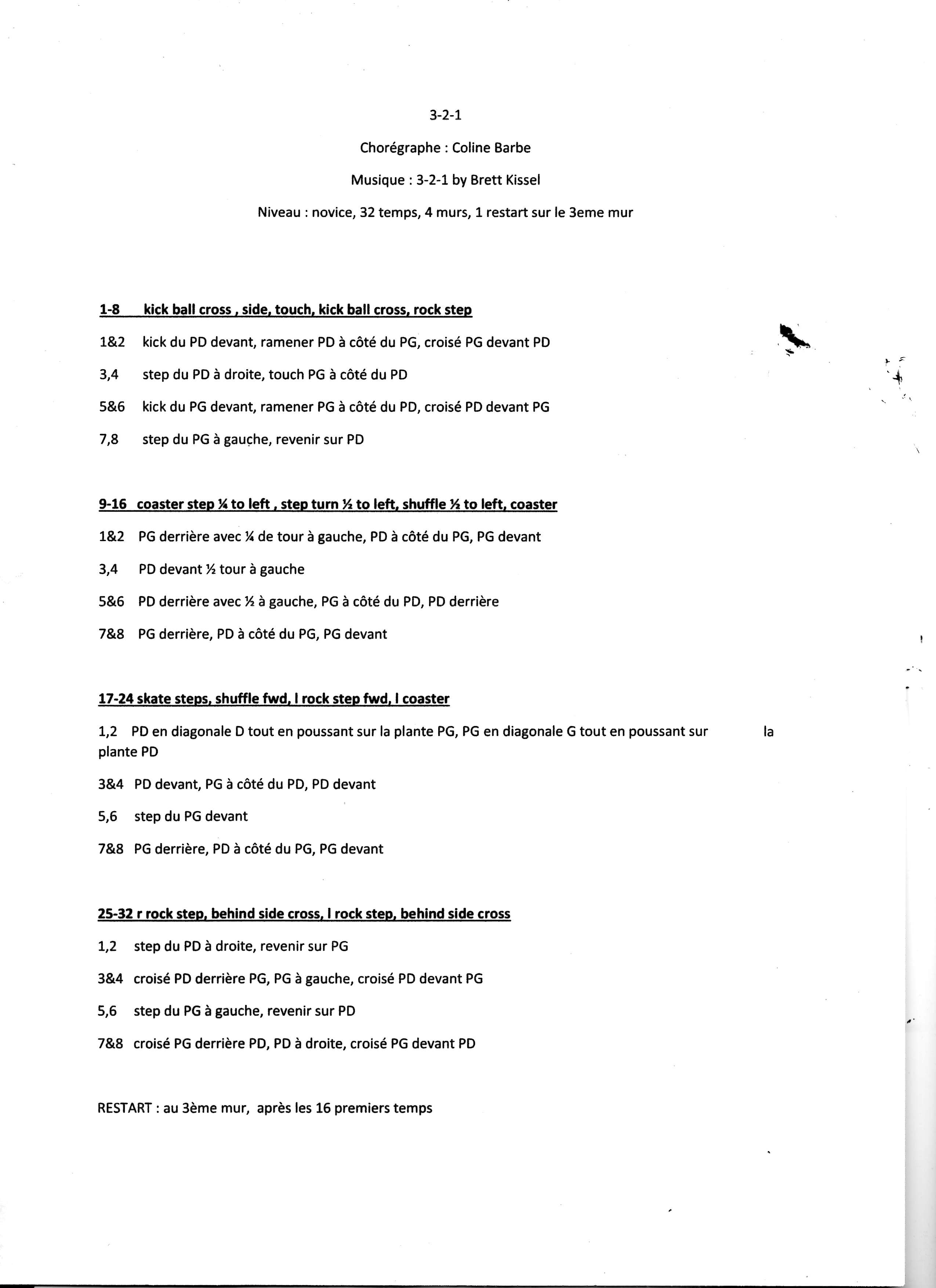 09 décembre 2017
Le spirit country club de marcenais organisé un Bal country à la salle des fêtes de Marcenais le 6 janvier 2018 ouverture des portes 20h
Entrée 5€ gratuit pour les moins de 14 ans
Pâtisserie offerte
Start over for Two Partner dance
START OVER AGAIN chez les Appaloosa
L'association PIM propose une journée de danse et détente en faveur du TELETHON le DIMANCHE 10 DECEMBRE 2017 à la salle de La Glacière à Mérignac.
Le matin : 1 h de découverte du Hatha yoga, suivi d'1 h d'initiations de danse en ligne (OH NO DESPACITO, LA COLEGIALA) pour débutants.
Auberge espagnole en petit effectif.
A-midi : à 15 h bal toutes danses y compris danse en ligne et danse country.
Inscription souhaitées pour les initiations du matin.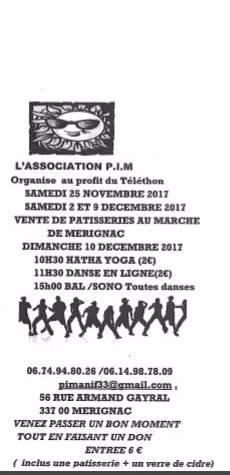 Playlist des danses en ligne du bal :
ANDALOUSE
ANOTHER COUNTRY
BIG BLUE TREE
BORED
BRING DOWN THE HOUSE
CALIFORNIA BLUE
CHASSE TANGO
CLICKETY CLACK
COME DANCE WITH ME
D LIGHT
DISCO
DUCK SOUP
EASY FUN
ENAMORANDONOS
GASOLINA BACHATA
HAVANA CHA
HAWAIIAN GIRLS
KUDURO LINE
LA COLEGIALA
LORELEY
LOVE REPEATS
NAUGHTY BUT NICE
OH NO DESPACITO
RUN RUN RUDOLPH
SUNDAY FINEST
TWIST & SHAKE
YESTERDAY ONCE MORE